Lesbian show in the erotic massage salon is always a double pleasure.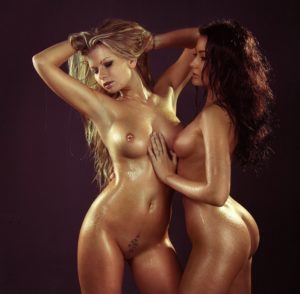 It is so rare in big cities to get pleasure from a girl who is inseparable from her friend. But in the salon "Lady Viagra" there are no superfluous third parties. There is no such man on the planet who would not dream of seeing his girlfriend in the arms of her best friend. Especially in a completely intimate setting with dim lights and oils on their bodies. Oh yes, how can you not feel an excitement that is no longer comparable to any other experienced event in your life. Knowing about such intimate male secrets, she was
service offered
erotic massage with a lesbian show at the beginning of the session. Even in ancient times, in the east, they used the four-hand massage technique. So why not enhance the pleasure of foreplay, thereby creating a more relaxing environment. Two girlfriends will happily frolic in front of the client in a relaxed atmosphere, giving a lot of pleasure to the newly formed love triangle. Excluding intimacy, you can not worry about failures in bed, but simply surrender to feelings of relaxing ecstasy.
Lesbian show with continuation in the form of erotic massage.
Everyone dreams of seeing their masseuse in the nude, somewhere in a secluded room with candles around. So why just fantasize about it when you can see everything with your own eyes. And even more – to feel the touch of a naked, excited girl on your shoulders, arms and other parts of the body. The languid breathing of both masseuses after the lesbian show and erotic massage Kiev gives even more unique sensations, inevitably bringing the client closer to ecstasy. It is not unusual for girls to caress each other. This is all natural. They themselves are delighted with the opportunity to snuggle up to their partner in the nude, because their bodies are beautiful.
Erotic massage as a continuation of an adult game for three.
Erotic massage after a lesbian show is very logical. The client needs to relax a little, because how can you not feel the tension from the gentle caresses he sees. By joining the girls, you can immediately feel their special playful mood. After the application of aromatic oils, a four-hand massage will follow using old ancient Eastern techniques. The sliding movements smoothly move from the top of the body and descend lower and lower. But do not assume that all the foreplay is over after the lesbian show. During the session, light flirting will continue and will not stop for a minute.
The pleasure will continue for everyone.
Erotic massage with a lesbian show means pleasure for three. A client, coming to an erotic massage salon, provides girls with a good opportunity to relax in his company. Young masseuses know how to thank for such a unique opportunity to combine work with pleasure for their body. Although the lesbian show is included in the price of the massage, it should be considered as a natural event. Indeed, with the permission of the client, the girls can not hide their hot fantasies, in which they, together with a friend, spend sweet minutes of time completely naked. All the girls of the salon are very loving and crave more passion in their lives. Treat yourself to a gentle touch from sensual masseuses, and let them love each other.